With your Unibas account, you have access to the network and applications of the University of Basel 365 days a year and around the clock.
In doing so, you may use applications and process data with increased protection requirements, which is why the 'Two-Step Login' is introduced for all user accounts.
Read which methods are available for authentication.
Select your preferred method. The 'Best Practice' can help you with the selection.
Activate your account and configure the methods you want.
Here you can go directly to the quick guides for activating 'Two-Step Login'.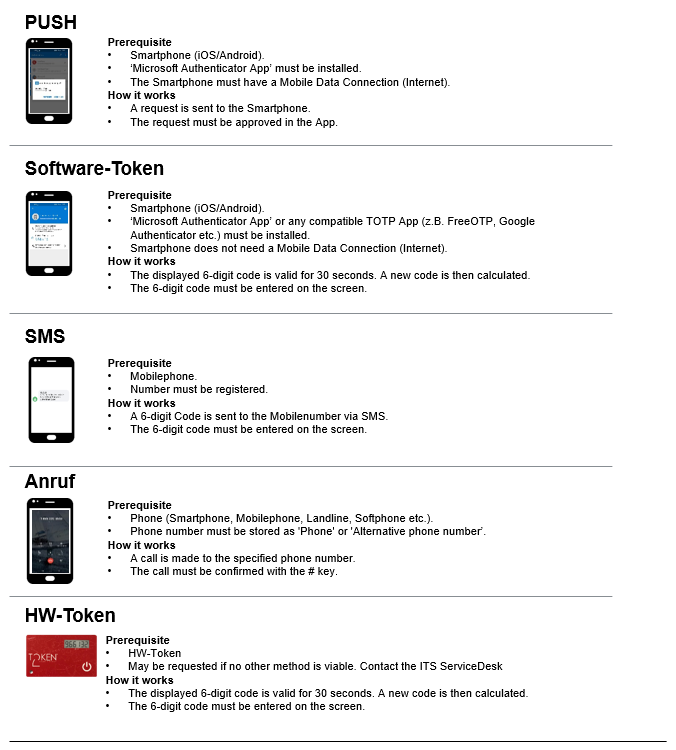 For smartphone users, the PUSH method is the most convenient way to use 'Two-Step Login'. By simply confirming the request, the users can perform the authentication.
It is also recommended that smartphone users store their mobile number. This makes it easier to change their smartphone.
Store your Unibasel phone number. This will enable you to perform 'Two-Step Login' even if your smartphone/mobile device is not operational.
If you have access to other phone numbers (e.g. a second phone number at work or at home), you can also store these as additional numbers.
If you have several smartphones or tablets in use, install the Authenticator app on these devices as well.
FAQ's for "Two-Step Login
Do I have to secure my group mailbox/function mailbox with Two-Step as well?
The two-step login procedure is only intended for personal user accounts. So called. Group mailboxes and/or functional mailboxes are not affected and do not require a two-step.
SHOW ANSWER
SHOW QUESTION
I don't own a smartphone or I don't want to register my private mobile number. What can I do?
You can also use your workplace number for verification by means of a telephone call. If this is not possible, please contact the ITS ServiceDesk (+41 61 207 14 11).
SHOW ANSWER
SHOW QUESTION
I have forgotten my smartphone/mobile device. What do I have to do?
Contact the ITS Service Desk (+41 61 207 14 11).
SHOW ANSWER
SHOW QUESTION
I have selected the 'Call' option but I am not receiving any calls. What could be the cause?
Check that you do not have a call barring function active for advertising calls. Temporarily deactivate the barring and try the function again. If you now receive the call, make the necessary adjustments to the barring.
SHOW ANSWER
SHOW QUESTION
IT-Services
Spitalstrasse 41, 3rd Floor
CH-4056 Basel
Phone +41 61 207 14 11
E-mail support-its@unibas.ch
Opening hours
Monday - Friday: 8:00 a.m. - 5:30 p.m.
Send email