Specifications, hints & tips
The personal password is valid for a maximum of 365 days and must be changed before this period expires. Four reminders will be sent to you by e-mail. If no change of password is made by the deadline, all access to (IT) university resources will be automatically blocked. It is still possible to change the password on Viaweb and thus unblock the access authorization.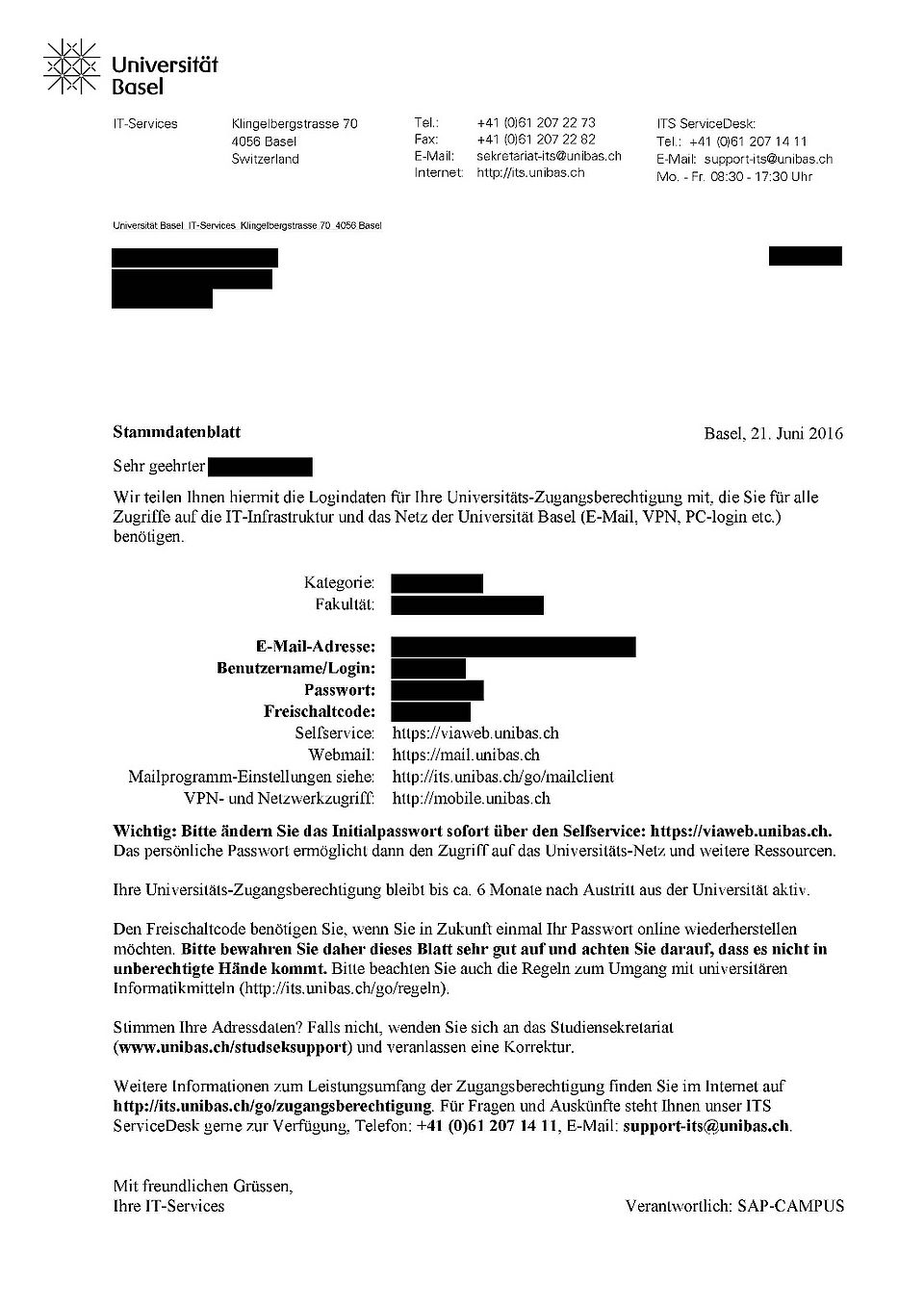 Students receive a master data sheet by post from the Registrar's Office as part of their SMILE letter, and employees receive one automatically after signing their contract, at the latest by the first working day. Master data sheets sent by post are normally sent to the private address stored in the system - in the case of maintenance access, to the company address. We recommend that you keep your master data sheet safe, permanently and protected from unauthorised access! The master data sheet contains:
Your e-mail address
Your login name
Your initial password
Your activation code (if available)
Important links in connection with your university access authorization
You can also come to the ServiceDesk at any time and ask to be issued with a new master data sheet on presentation of official identification (ID, passport or driving licence). A new initial password will be set and your access to the university network and all resources will be blocked until you define a new personal password on Viaweb. If you are unable to come in person, you can authorise someone in writing to collect your master data sheet. The authorised person must be able to identify himself/herself to IT Services with an official identity document.
To use many IT services of the University of Basel you need a user account (=Uni-Account). You log in to the services with this user account and the corresponding password. As a rule, you can also use your e-mail address as an identifier. As a member of the university you can, among other things:
Log in to PC workspaces at the university.
Log in to many of the web services available on the Uninetz.
Log in to all the services integrated via SWITCH edu-ID and thus have easy access to a wide range of services (from learning platforms to collaboration and videoconferencing solutions, right through to special library catalogues and knowledge databases). An increasing number of services on the internal network also use the SWITCHaai login (e.g. UNIPrint).
Connect to the Uni Basel network from any Internet connection worldwide via our VPN solution.
Connect to the internet wirelessly and free of charge at many public places in Switzerland via the PWLAN solution (via VPN).
Attention: As a guest you may have limited access rights.
Staff, lecturers and students automatically receive a university account. Upon justified request, certain persons can also be granted access authorisation. In this case, the resulting benefit for the university must be justified. You can find more detailed information here.