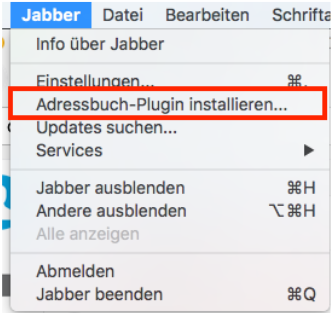 Install the address book plugin under Jabber > Install Address Book Plugin.
Activate the address book plugin under Jabber > Settings > General

You can now make a call from the Contacts application. To do this, click on the category to the left of the number and then "Dial with Cisco Jabber".
IT-Services
Spitalstrasse 41, 3rd Floor
CH-4056 Basel
Phone +41 61 207 14 11
E-mail: support-its@clutterunibas.ch
Access to 3rd Floor
The 3rd Floor is only accessible via Elevator. If this is not possible please give us a call from the Lobby and we will pick you up.
Walk-In Times
Please note that a visit to the IT-Service Desk is currently only possible between 08:30 and 12:00 rsp. 13:00 and 17:30. We thank you for your understanding.
Operating hours
Monday - Friday, 8 am – 5.30 pm
Send email